As a long term addict to suffering, i.e. a Cleveland Indians (Cleveland sports in general) fan, I can't help but feel a little superstitious about the fact that the turning point in Cleveland's season this year just so happened to correspond with the exact week they got a #1 ranking on ESPN's power rankings…
After an amazing start to the season and blowing everyone's socks off (except the White Sox's), they get ranked #1 in the league. It took them 7 weeks to get there and then 7 weeks later after that #1 ranking to reverse the trend completely.
First 7 weeks: 29 and 15 (Power ranking #1)
Next 7 weeks: 15 and 23 (Power ranking #8 and dropping like the Demon Drop)
How I love being a Cleveland sports fan.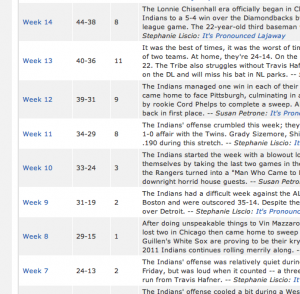 Cleveland Indian Fallin Power Rankings
http://espn.go.com/mlb/team/rankings/_/name/cle/cleveland-indians